Construction Industry MS1500/1000 Twin Shaft Concrete Mixer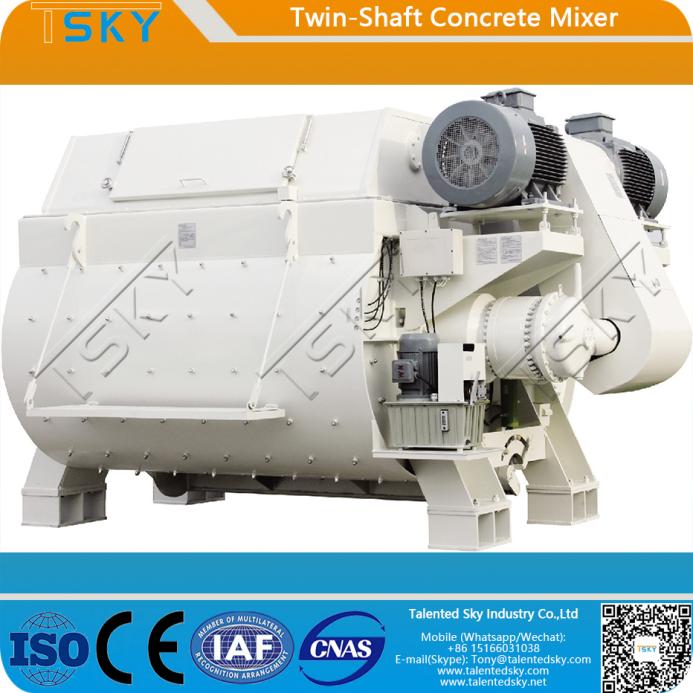 Basic Information
| | |
| --- | --- |
| Place of Origin: | Qingdao China |
| Brand Name: | TSKY |
| Certification: | ISO, CE, BV, FDA |
| Model Number: | MS1500/1000 |
| Minimum Order Quantity: | 1 sets |
| Price: | Negotiable |
| Packaging Details: | Export standard container: 20GP or 40GP, 40HC |
| Delivery Time: | 5-8 working days |
| Payment Terms: | L/C, D/A, D/P, T/T, Western Union |
| Supply Ability: | 1000 sets/month |
Detail Information:
Feeding Capacity:

1500L

Discharging Capacity:

1000L

Motor Power:

37KW

Condition:

New

Warranty:

1 Year

Application:

Construction Industry, Building Construction, Building Site

High Light:

MS1500 twin shaft concrete mixer,

37KW twin shaft concrete mixer,

MS1500 twin shaft cement mixer
Product Description:
Forced Twin Shaft Concrete Mixer for Concrete mixing plant
Our mixer absorbs the international advanced technology and has unique performance of European mixer
·The structure of the mixer is designed compactly,and all parts are fixed on mixing tank,which can save spaceand be installed and replaced easily.
·Combined double floating seal and unique seal with high pressure grease,this configuration can expand useful life.
·The mixing arm is streamline in axial and in radial directon which ensures fast mixing speed and can reach to the homogeneity quickly. Meanwhile,the unique designed structure can improve the utilizaton rate of cement.
·Scale board and paddle are made of manganess steel,which extends the useful life greatly.
·High pressure cleaning device,consistence probe are optional.
Monitoring System of mixer
| | |
| --- | --- |
| | Has been the national patent agitating host monitoring system. Real time system monitoring for hydraulic pumps and reducer oil temperature, oil level, through the monitor to achieve Chinese information tips and acousto-optic alarm, enable users to discover and deal with faults in time, to improve the service life of the host machine. |
Reducer
| | |
| --- | --- |
| | Equipped with high performance angular drive reducer and motor, bring the whole machine stable running, low noise, large output torque and durability. |
Shaft-end sealing
| | |
| --- | --- |
| | The shaft end sealing adopts unique pressure difference multiple sealing technology, which greatly improves the service life of shaft end. |
Hydraulic Discharging System
| | |
| --- | --- |
| | Adopt advanced hydraulic system to open and shut the discharging door, under the circumstance of sudden power failure, the manual pup is used to open the discharging valve to make a urgent discharge, to prevent the agglomeration of concrete in the mixer. |
Mixing System
| | |
| --- | --- |
| | Mixing system adopts the design of multi mixing blades, no dead space, which enables to have the perfect uniform mixing efficiency on a short time. |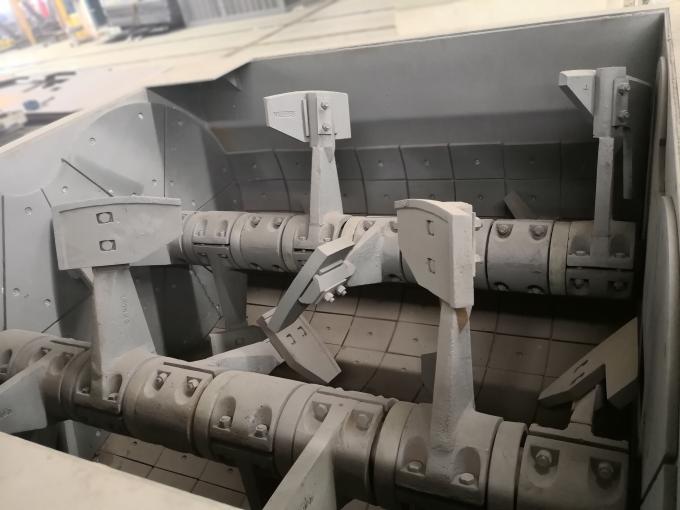 Tag: SGS diesel engine concrete mixer, JZC350A Industrial Concrete Mixer, JZC350B concrete mixture machine